In the ever-evolving world of fashion and beauty, Korean short hairstyles have emerged as a beacon of elegance and trendsetting. These hairstyles, deeply rooted in the heart of K-pop culture and Korean beauty standards, offer a blend of simplicity and sophistication that's hard to find elsewhere.
Whether you're looking to completely transform your look or just seeking a touch of Seoul's chic style, our curated list of Korean short hairstyles will guide you through the best and most fashionable choices available today.
1. Short Bob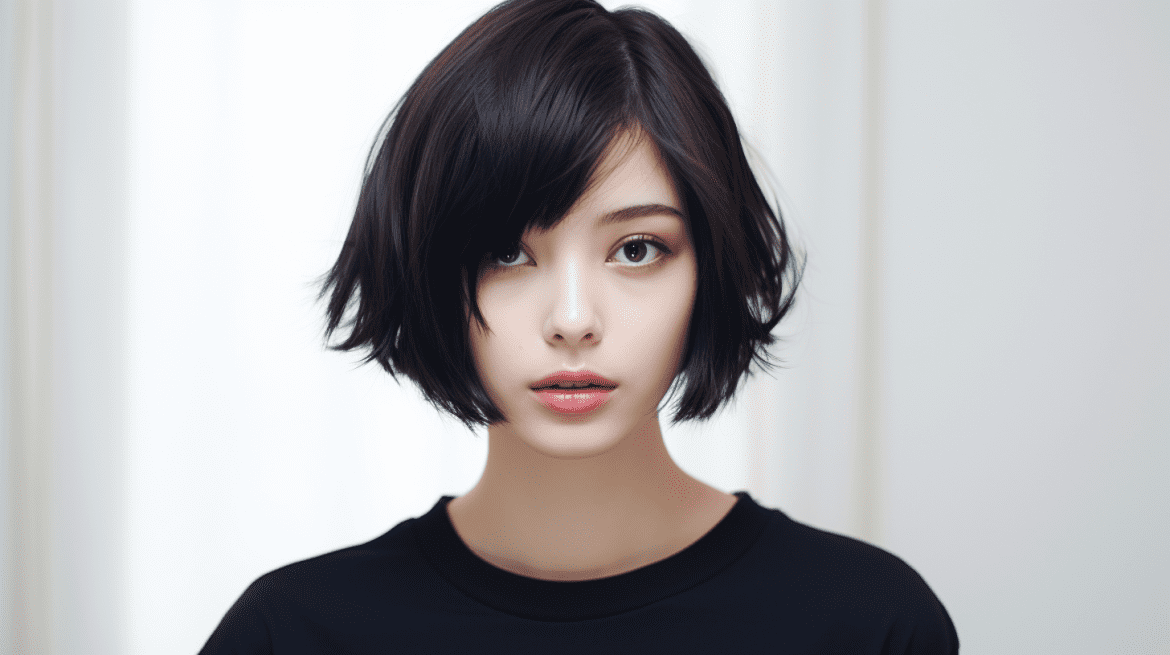 This style is a favorite among many Korean women because it's simple, easy to manage, yet still elegant. The Short Bob is typically cut neatly in line with the jawline. Many also add layered or bangs accents to give a more dynamic impression.
When getting this haircut, ask your hairstylist to consider your face shape. Do you have an oval or elongated face? A short bob will suit you perfectly. But don't worry, for those with other face shapes, this style can still be adapted.
You can also combine it with various hair styling techniques. For instance, using a straightener to give a bouncy and voluminous effect. Or you can just simply let your hair flow naturally with a bit of hair serum to add shine.
2. Korean-style Pixie Cut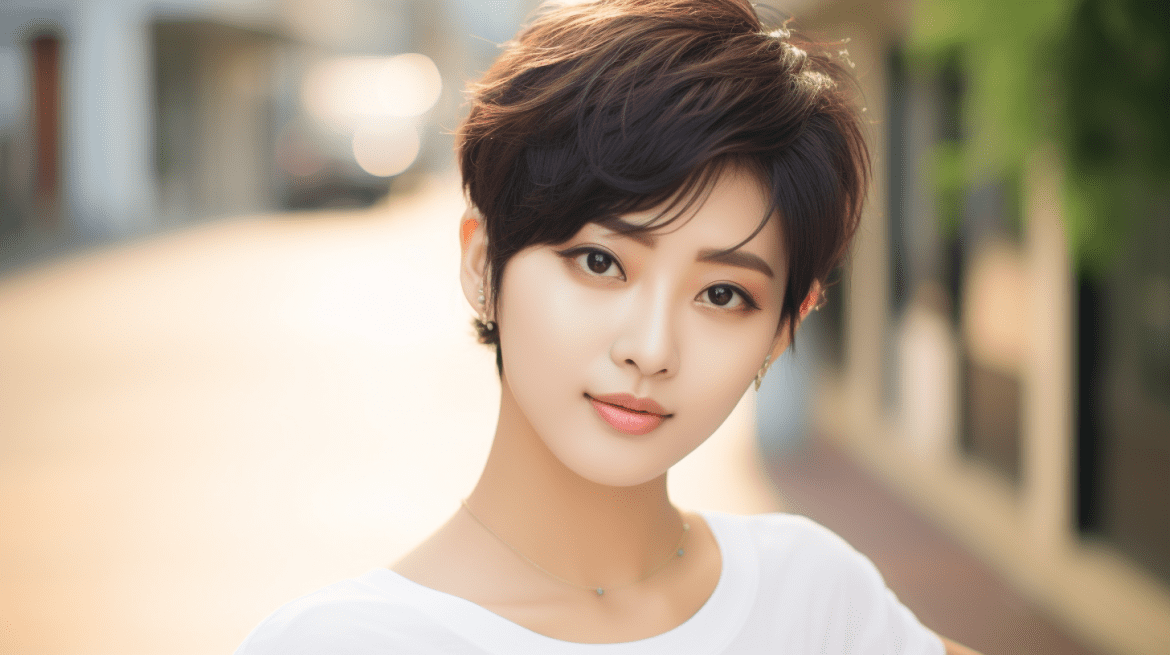 The Pixie Cut can be likened to a timeless trend. And this super short hairstyle can give a sharp and edgy touch to your appearance. Imagine the iconic Audrey Hepburn haircut but with a Korean twist.
The Korean-style Pixie Cut usually features a longer front and shorter back. Some women also opt to add side bangs, giving a softer and more petite facial impression.
Styling is far from complicated. A bit of hair gel or pomade is enough to keep your hair neat and stylish all day. For those with an oval or elongated face, the Pixie Cut will be an excellent choice. But then again, it doesn't mean this hairstyle isn't suitable for those with different face shapes. With a little modification, the Pixie Cut can make anyone look distinct and confident.
3. C-curl Bob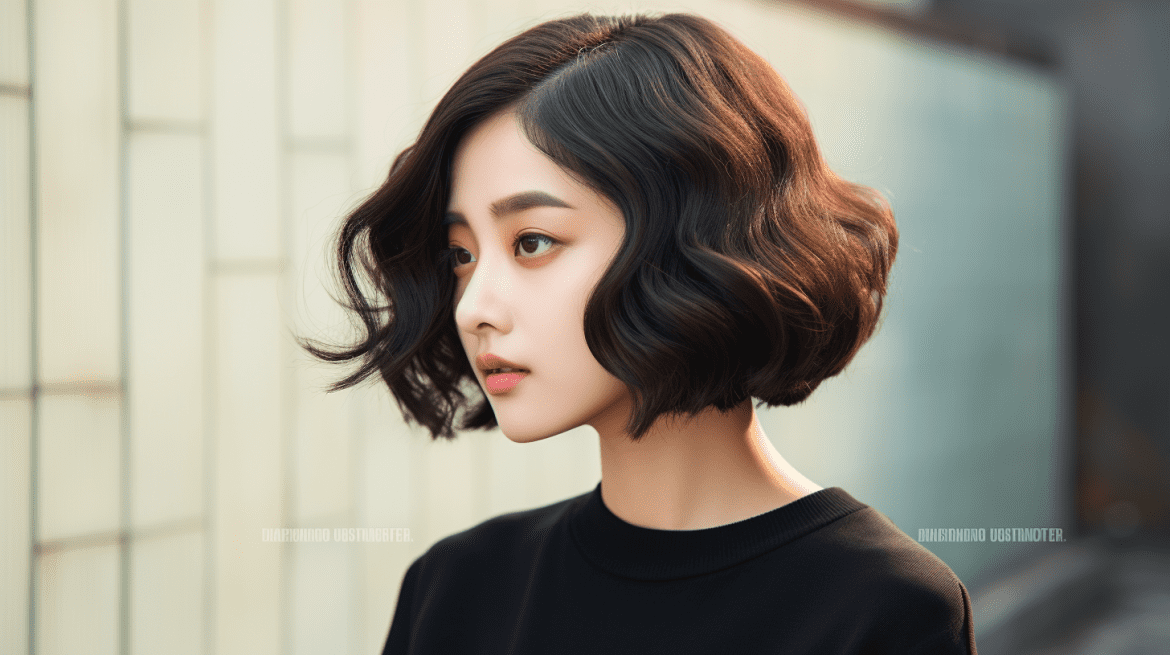 Simple, feminine, and classy. That's the first impression you'll get when seeing the C-curl Bob. As a bonus, this style suits almost all face shapes.
The C-curl Bob is a modern version of the classic bob. But with a slight twist, this hairstyle looks more dynamic and elegant. It's typically cut just above the shoulders with the hair ends curled inwards, forming a C-shape.
One interesting thing about the C-curl Bob is its ease of styling. With just a hair straightener, you can achieve a perfect look in no time. However, to get the maximum C-curl effect, you might need a bit of styling product help, like hair mousse or hairspray.
4. Layered Bob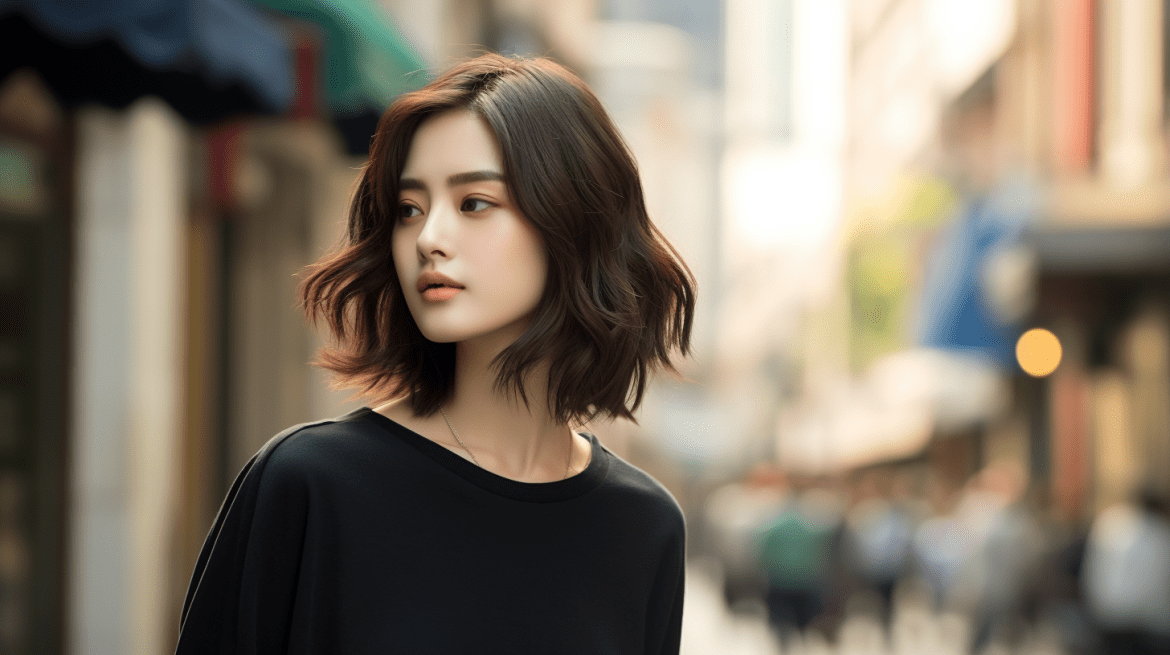 As the name suggests, this style relies on hair layers to create dimension and volume. These layers give an impression of thicker and more dynamic hair. The cut usually ends around the neck, but you can choose the length that suits you best.
Regarding styling, you just need a comb and a bit of hair spray. You can also add a slight curl at the hair ends for a more playful look. This Layered Bob is suitable for those with thin hair, wanting to give an illusion of thickness.
In essence, the Layered Bob suits all face shapes. However, for those with round or square faces, this style can give a longer and slimmer facial effect.
5. Shaggy Cut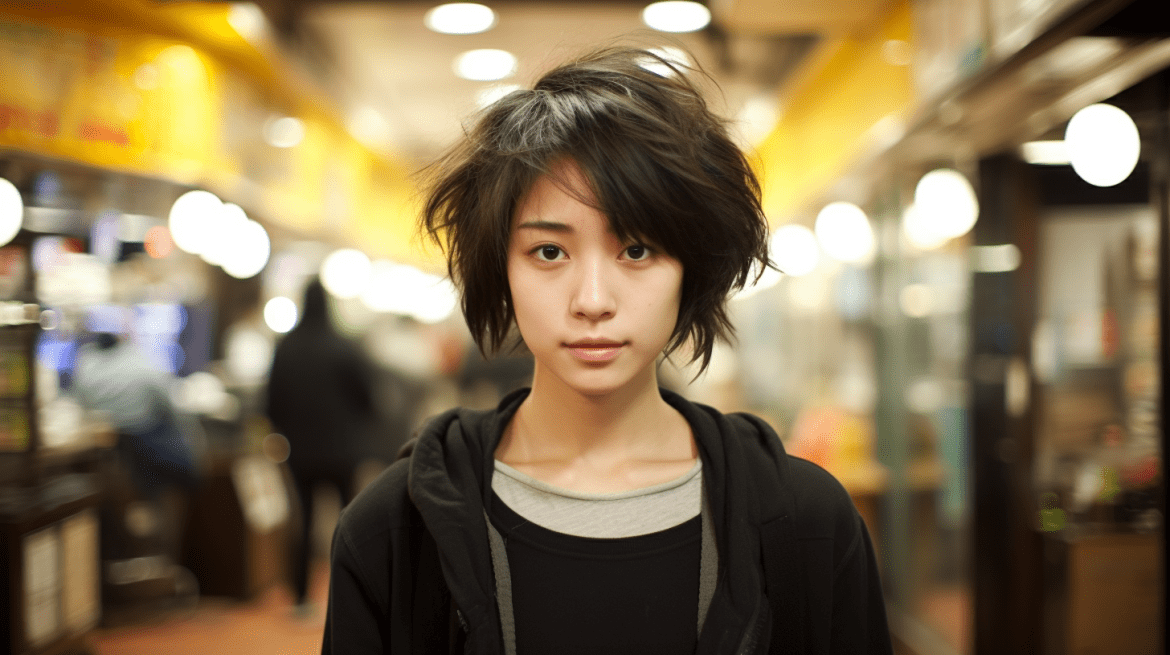 This hairstyle brings a retro vibe with a modern touch. It's suitable for those wanting an effortless chic and hassle-free look.
The Shaggy Cut can add texture and volume to the hair, giving a relaxed and free impression. But don't be mistaken. Even though it looks messy, this hairstyle makes you stand out and look unique.
To achieve this look, just use your fingers and a bit of hair mousse or wax. Let your hair play with the wind and don't worry about it getting messy. After all, that's the charm of the Shaggy Cut.
The Shaggy Cut is perfect for those with wavy or curly hair. But even if you have straight hair, you can still try this style.
6. Blunt Bob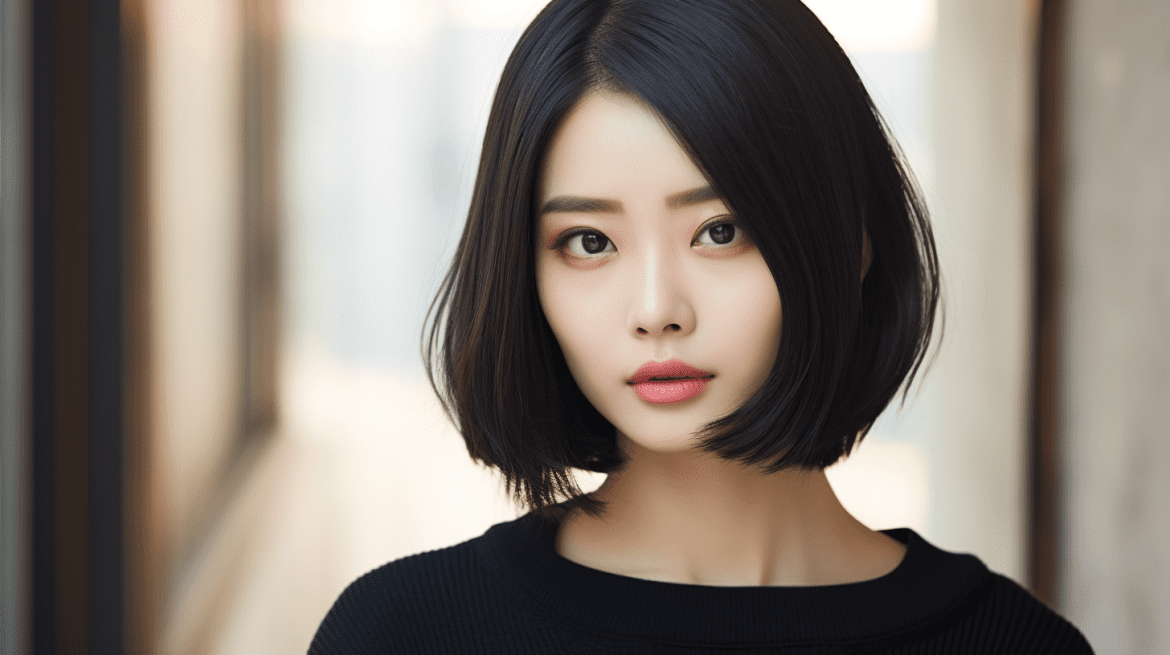 Among all the styles we've discussed, the Blunt Bob might be the one that exudes both mystery and sexiness. It's the right choice if you want to steal the spotlight.
The Blunt Bob is characterized by a neat and straight haircut without layers, creating a modern, clean, and sophisticated look. The length can be adjusted to your preference, ranging from jawline to shoulder length.
The Blunt Bob is also relatively easy to style. A bit of hair serum is enough to showcase the natural shine on your straight hair. For those with curly or wavy hair, a straightener can be your best friend.
The Blunt Bob is a captivating choice for those with an oval or elongated face. And with a little modification, this cut can suit almost all face shapes.
7. Asymmetrical Bob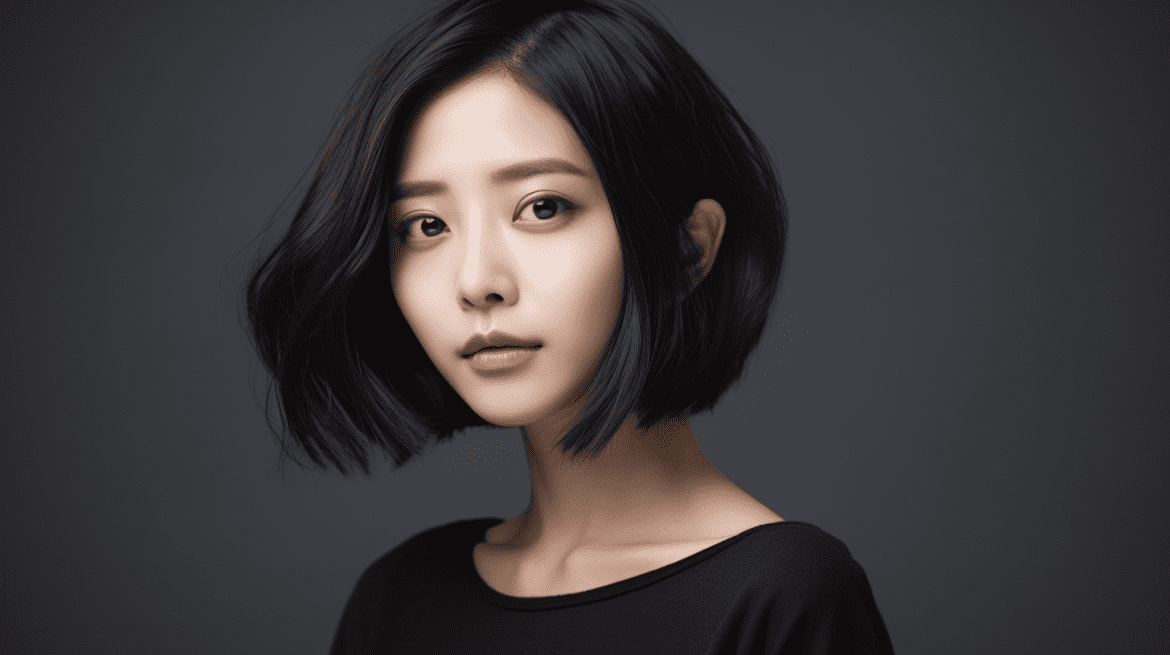 In the Asymmetrical Bob, one side of the hair is typically cut shorter, while the other side is longer. This imbalance is intentional to give a bold and modern impression.
This style can be very prominent if you have straight hair, but that doesn't mean you can't try it with curly or wavy hair. Another advantage is that the Asymmetrical Bob suits almost all face shapes.
For styling, a bit of hair serum or wax can add shine and texture. And of course, a hair straightener will always be essential for a neater and sleeker effect.
8. Undercut Model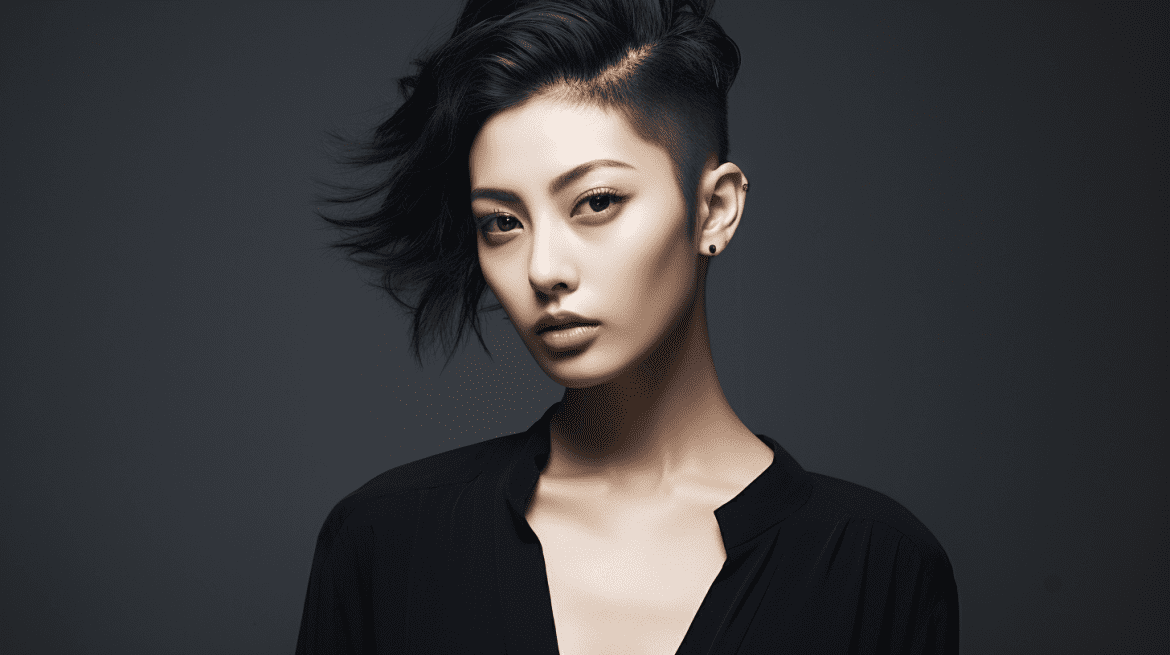 Want to try something truly different? The Undercut Model might be your choice. This hairstyle can give an edgy touch that truly sets you apart.
The Undercut typically features the sides and back of the head cut short or shaved off, while the top is left longer. You can let your hair fall freely or style the top in various ways, depending on your mood.
Styling for the Undercut Model varies greatly. You can opt for a sleek look with a bit of hair gel or make it edgier with texture and volume. This hairstyle might seem bold, but don't let that stop you.
9. Fringe Bob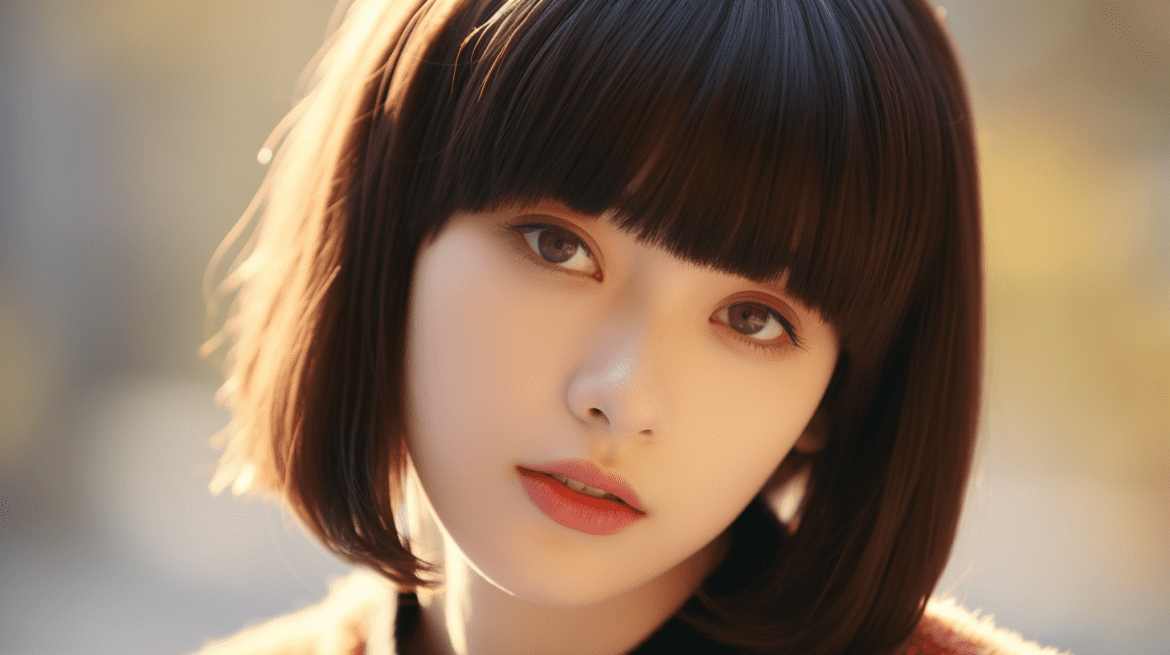 Combining the classic bob with Korean-style bangs, the Fringe Bob is for those yearning for a sweet and chic appearance. The Fringe Bob relies on bangs or front hair cut straight in line with the eyebrows. Meanwhile, the back and sides are usually in line with the jawline, creating a neat and stylish look.
The Fringe Bob can add dimension to the face and is suitable for almost all face shapes. If you have an oval or elongated face, bangs can help balance your facial proportions.
In terms of styling, it's pretty straightforward. You just need a comb and a bit of hair spray to set your bangs. Meanwhile, a hair straightener can be your best friend for styling the back and sides.
10. Wavy Short Hair
Want a feminine, playful, and charming look? Wavy Short Hair might be the answer. Another plus point, this short hairstyle suits almost all face shapes and hair types.
Wavy Short Hair relies on soft wave textures to create volume and dimension. The hair length usually ends in line with the jawline or slightly longer, giving a sweet and feminine impression.
To create the waves, you can use a straightener or curling iron. A bit of hair mousse or hairspray can help maintain hair texture and volume. If you have straight hair, don't worry. Some styling products and hair tools can help create the perfect waves.
Hold on a second! Before you change your hairstyle…
Have you heard about K-Beauty yet?
Let us explain briefly. K-Beauty is the latest product from Rupa.AI. With its impressive artificial intelligence technology, K-Beauty can enhance your photos, making them brighter in various poses as well as Korean hairstyles and makeup.
But this product isn't just a regular filter or photo editing tool. K-Beauty offers an experience akin to undergoing a professional photoshoot with a personal photographer and makeup artist. And all you need to do is upload a few of your photos.
Thousands have already tried and enjoyed this experience. Now it's your turn to try and feel the transformation. Don't wait any longer, instantly change your look with a Korean-style photoshoot! Visit K-Beauty by Rupa.AI and create your best profile picture now!