Have you ever been in a room and felt so comfortable that you didn't want to leave? Or on the contrary, you felt uncomfortable and wanted to leave immediately? Well, all of that could be the result of the 'magic' of interior design.
A pleasing interior design can make a room feel more comfortable.
So, what is interior design? Some of you may already be familiar with this term. But, do you really understand what its mean? If you're curious and want to know more, this article is for you. Because in this article, we will delve deeper into what interior design is, why it's important, and how its principles can transform an ordinary room into something extraordinary.
Ready to explore the world of interior design? If so, let's get started!
What Is Interior Design?
Interior design is not just about aesthetics, but also about creating a functional and comfortable space. Interior design is the art and science of understanding people's needs for their spaces, then creating functional and aesthetic solutions that improve the quality of life and culture of its inhabitants. It's not just about beautifying a room. More than that, interior design focuses on planning, researching, coordinating, and supervising projects that involve interior space arrangement.
Interior design is not a new concept. In fact, the art of designing spaces has existed since ancient times. The Ancient Egyptians, for example, already used carefully arranged furniture in their homes. However, the profession of interior designer as we know it today only emerged in the 19th century.
The development of interior design has been greatly influenced by social changes, technology, and lifestyle trends. From the luxurious classic style in the Victorian era to minimalism and functionalism in the modern era, this art continues to evolve and adapt to the needs and tastes of society.
Types of Interior Design
There are many styles in interior design, and each style has its own unique characteristics. Here are some popular styles:

A minimalist interior design style that is simple and elegant.
Minimalist: This style prioritizes function and simplicity. Neutral colors, furniture with clean lines, and clutter-free spaces are the hallmarks of this design.

A modern interior design style with clean lines and geometric shapes.
Modern: The modern style is often associated with the mid-20th century. Its characteristics are the use of clean lines, geometric shapes, and materials such as plastic, glass, and steel.

An industrial interior design style with raw and rough elements.
Industrial: The industrial style is inspired by factory and warehouse aesthetics. Its hallmark is the use of raw and rough materials such as concrete, brick, and metal, as well as a neutral color palette.
Each style has its own charm and uniqueness. The most important thing is that the room can reflect your personality and meet your needs!
Why Is Interior Design Important?
Interior design plays a crucial role in determining the atmosphere and function of a room. Colors, lighting, furniture, and decorations can influence the mood of a room. For example, warm colors like red and yellow can create a warm and energetic atmosphere, while cool colors like blue and green can create a calm and relaxed atmosphere.
Moreover, interior design also affects the function of a room. Proper furniture arrangement can make a room feel more spacious and functional. For instance, in office interior design, well-placed desks and chairs can support productivity. Yes, a well-designed workspace can help you focus and work more efficiently. Factors such as lighting, temperature, and noise can affect concentration and work productivity.
A well-designed workspace can boost productivity.
In essence, interior design is not just about aesthetics, but also about comfort and productivity. For example, adequate lighting and natural views from the window can make you feel more relaxed, calm, and happy.
But of course, we can't forget the aesthetic benefits. A beautiful and attractive room can make us feel happier and more satisfied. Good interior design can reflect our personality and taste, making the room feel more personal.
In addition, interior design can also increase property value. A well-designed home or office can attract more interest and increase the selling price of the property.
Stages in the Interior Design Process
Creating your dream room is not a one or two-day job, dear reader. There are several stages that must be passed in the interior design process. Here are those stages:
Concept: This is the brainstorming stage, where you and your interior designer will discuss ideas and visions for your room. You can share inspirations, color preferences, styles, and the function of the room you want.
Design: Once the concept is determined, the interior designer will start creating sketches, 3D drawings, or room models. This stage allows you to see what your room will look like before the implementation process begins.
Implementation: This is the realization stage, where all ideas and plans are realized. The interior designer will work with contractors, craftsmen, and vendors to ensure that all design details are implemented well.
The Role of Interior Designers in This Process
Interior designers play a crucial role in every stage of the process. They are not just people who draw and choose colors. More than that, they are professionals who have knowledge and skills in designing functional and aesthetic spaces.
In the concept stage, interior designers will help you formulate visions and ideas for your room. They will listen to your needs and desires, and provide advice based on their knowledge and experience.
In the design stage, interior designers will create a visualization of your room. They will ensure that all design elements work well together, and that the room will meet your needs and tastes.
In the implementation stage, interior designers will ensure that all plans are well realized. They will work with various parties, monitor the work process, and solve problems that may arise.
So, interior designers are a valuable partner in creating your dream room. With their help, you can design a room that is not only beautiful, but also functional and comfortable.
Interested in Transforming Your Room?
Maybe now you feel inspired to transform your room. But, how to do it? Do you have to buy a lot of new items or hire a professional interior designer? Don't worry, there's an easy and practical solution for you, namely with Dream Space!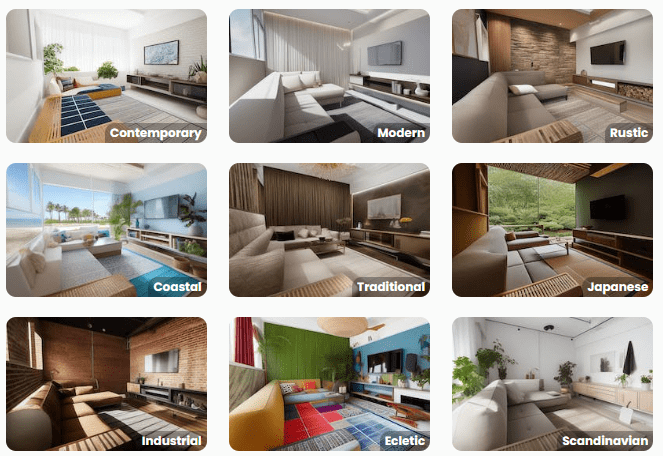 Dream Space, an easy and practical solution for designing your dream room.
Dream Space is a new feature from Rupa.AI that can transform your room into something more beautiful with the help of AI technology. You just need to upload a photo of your current room and choose from 30+ different interior styles. Then, let our AI generate stunning images of your room's transformation in seconds. Whatever style you want for your room, you can find it in Dream Space.
So, what are you waiting for? Create your dream interior design with Dream Space. Transform your room into something more beautiful with various interior styles in minutes. Try Dream Space now! Visit Dream Space and start your dream room transformation today!