When you hear the word "kitchen," what comes to mind? Do you think of a room where people usually cook? While you're not wrong, that's not the complete picture.
The kitchen is not just a place for cooking, but also a space where you and your family can gather, share stories, and create memories. Hence, having a striking and functional kitchen design ideas is incredibly important. And that's why we'll discuss ten creative kitchen design ideas for your modern home.
1. Open Kitchen Interior Design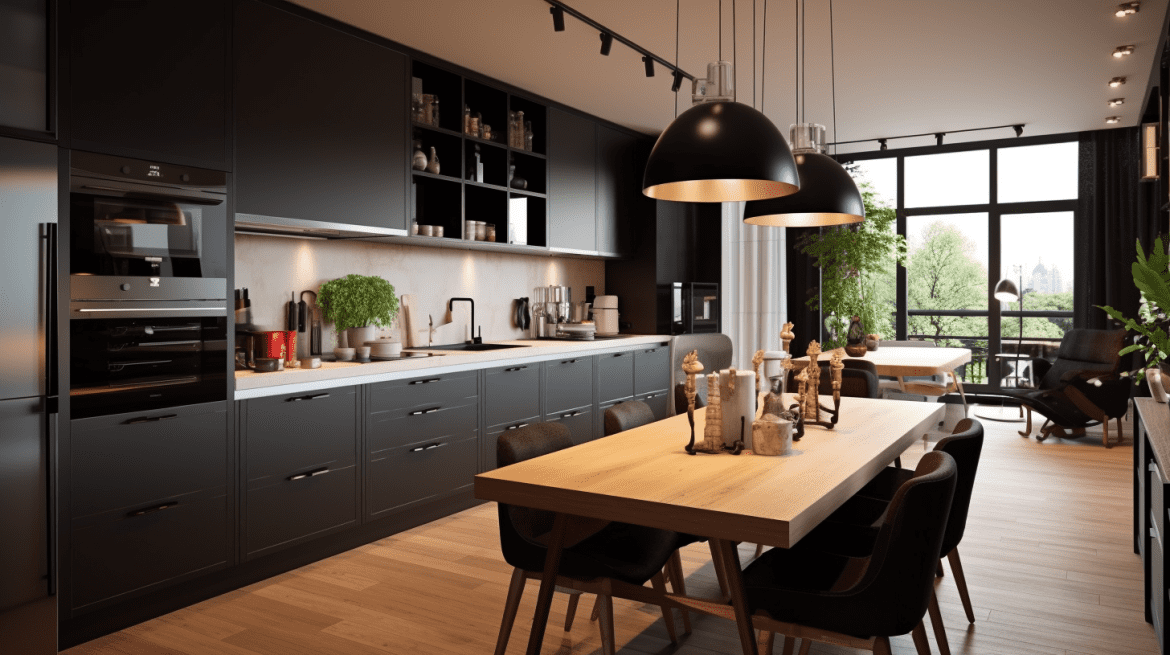 Indeed, an open kitchen can be an intriguing choice for your modern home. This design allows you to interact with family or guests while cooking.
To implement it, you can remove partitions between the kitchen and the dining or living area. Also, consider adding a kitchen bar or a long dining table to maintain the openness of the space.
2. Kitchen Island Interior Design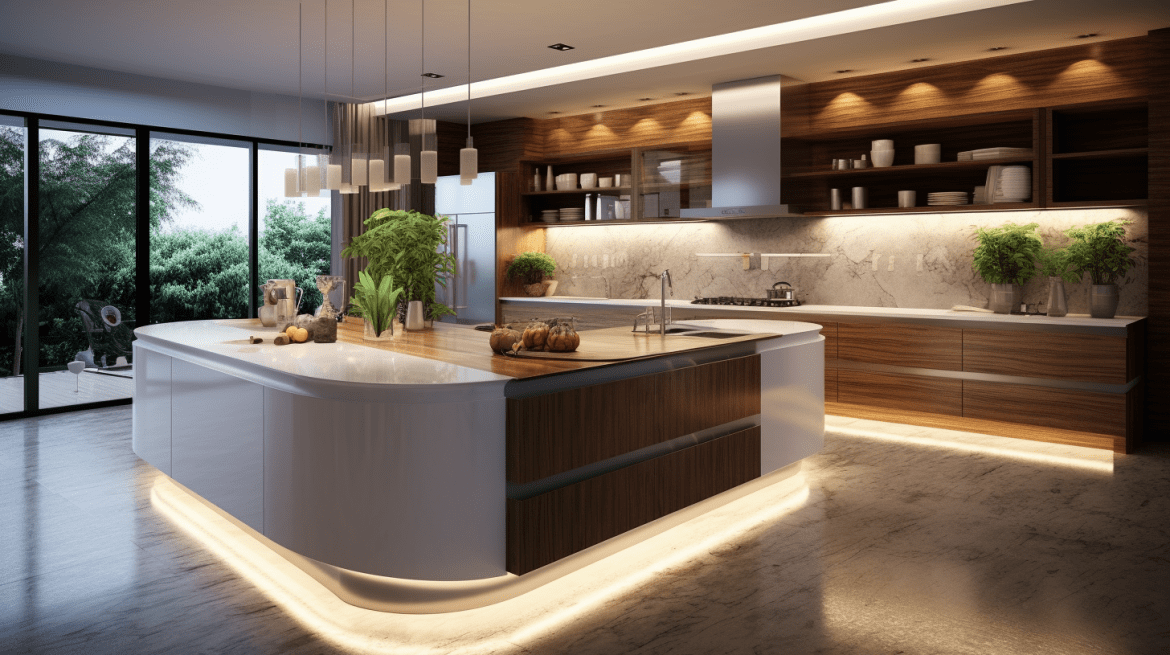 A kitchen island doesn't mean a kitchen in the middle of the ocean. Kitchen island refers to a kitchen concept with a large table at the center. In addition to providing more workspace, a kitchen island may also serves as extra storage or even an informal dining area. If needed, add bar stools around the kitchen island to create a relaxed dining area.
3. Minimalist Kitchen Interior Design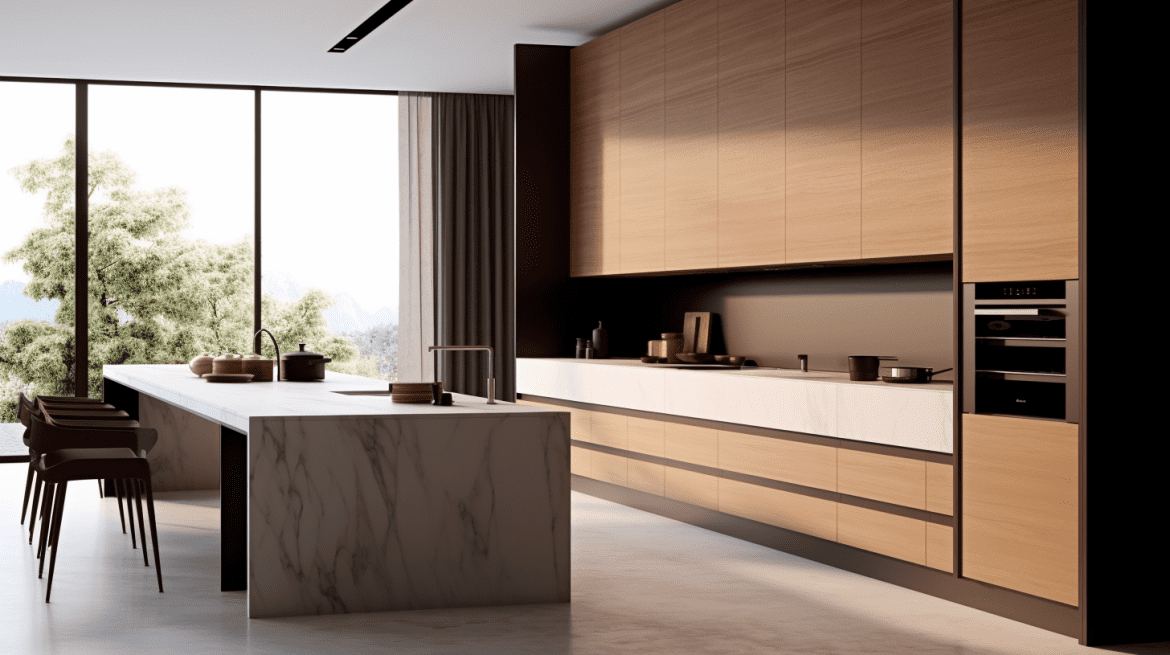 Less is more — that's the principle of minimalist design. As a minimalist kitchen emphasizes function and space efficiency, opt for furniture with simple designs and neutral colors. Avoid excessive accessories and only keep items that you genuinely need in the kitchen.
4. Multifunctional Kitchen Interior Design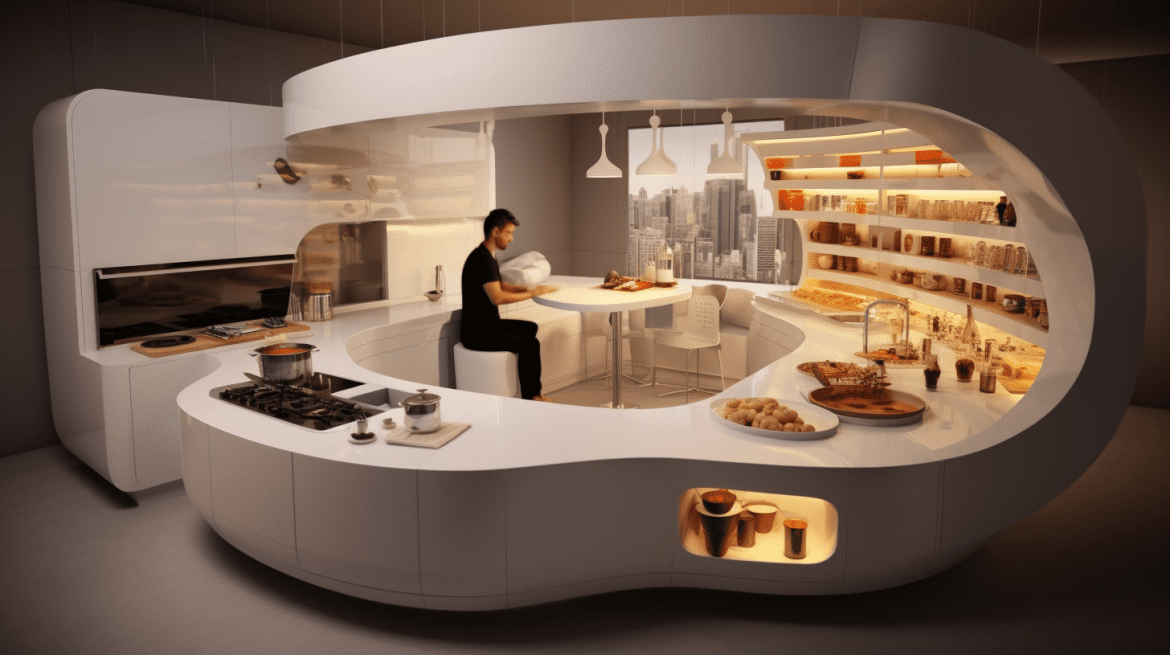 A multifunctional kitchen serves various purposes beyond cooking. For instance, you could include a small workspace or reading nook. Or, just transform the kitchen into a secondary family room by adding a comfortable seating area.
5. Kitchen Interior Design with Natural Lighting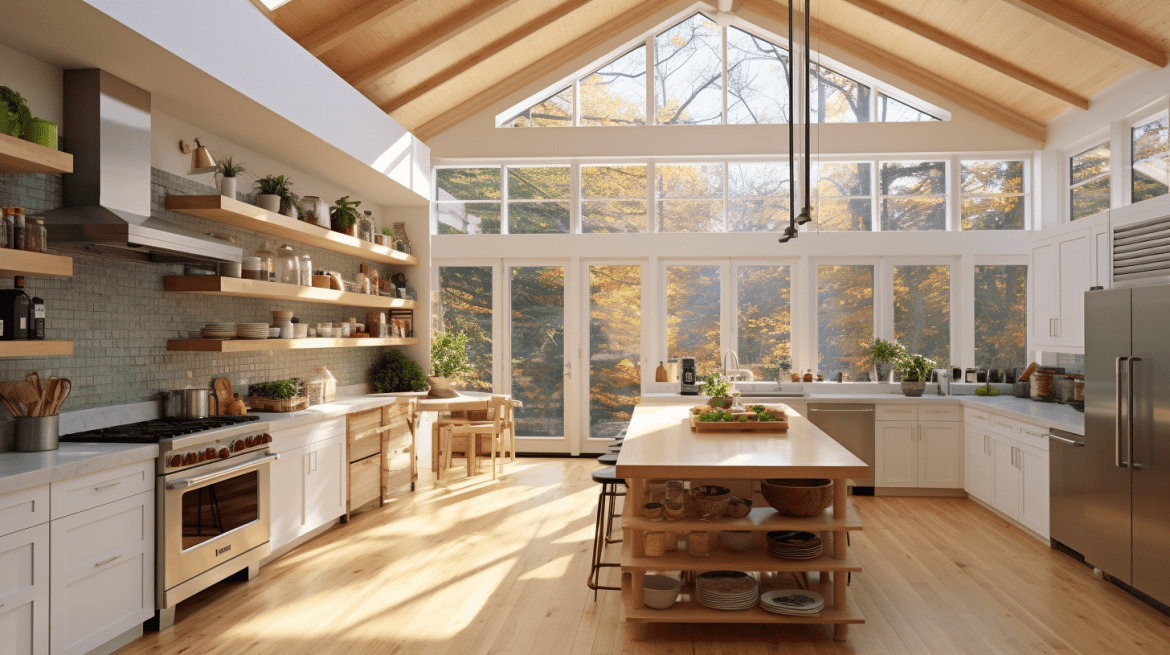 Inviting sunlight into your kitchen not only makes the room feel warmer but also adds a pleasant atmosphere. Large windows or a glass roof can be a smart solution to maximize natural lighting. Plus, you can also save on energy!
6. Kitchen with Wooden Floor

Stepping on a wooden floor feels warm and comfortable, right? This warmth can also be brought into your kitchen with wooden flooring. Plus, it can add natural texture to your kitchen.
However, wooden floors require extra care, especially against water spills. Therefore, ensure you choose water-resistant wood and perform regular maintenance to keep it beautiful.
7. Kitchen with Bright Colors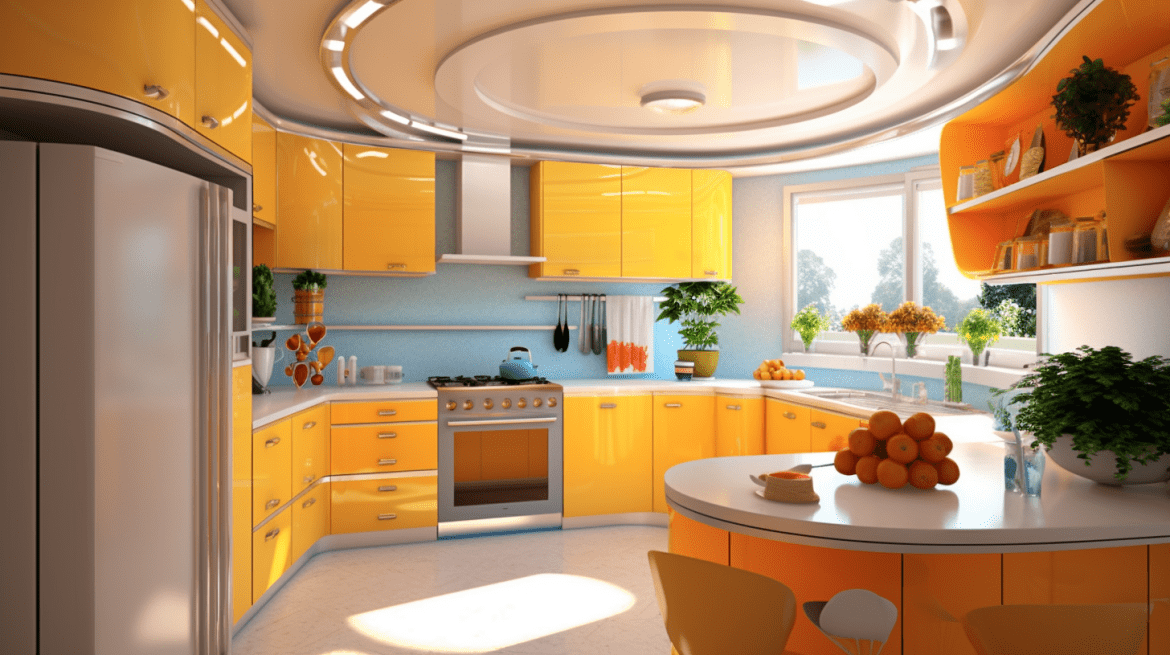 Using bright colors in your kitchen? Why not? Bright colors can invigorate the kitchen atmosphere, making it more cheerful and energetic. Try applying them to your kitchen's walls, cabinets, or accessories.
8. Kitchen with Unique Textures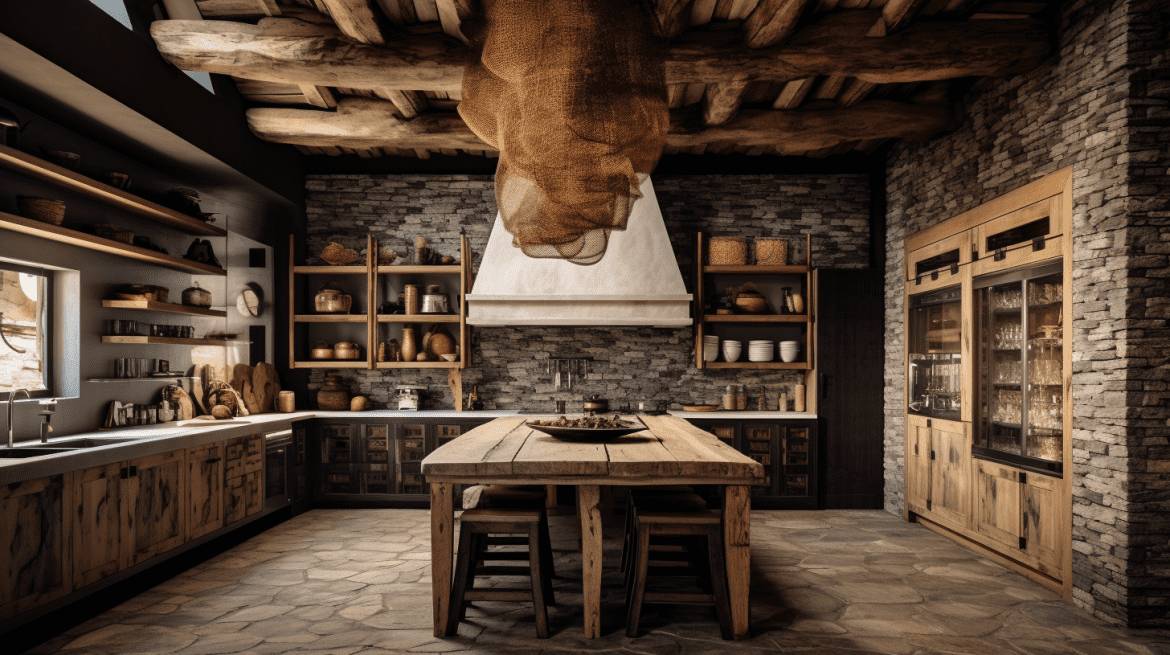 Textures can add depth and character to the kitchen. You could choose a textured backsplash or cabinets with carved details. And remember one important thing: don't be afraid to experiment.
9. Kitchen with Open Shelves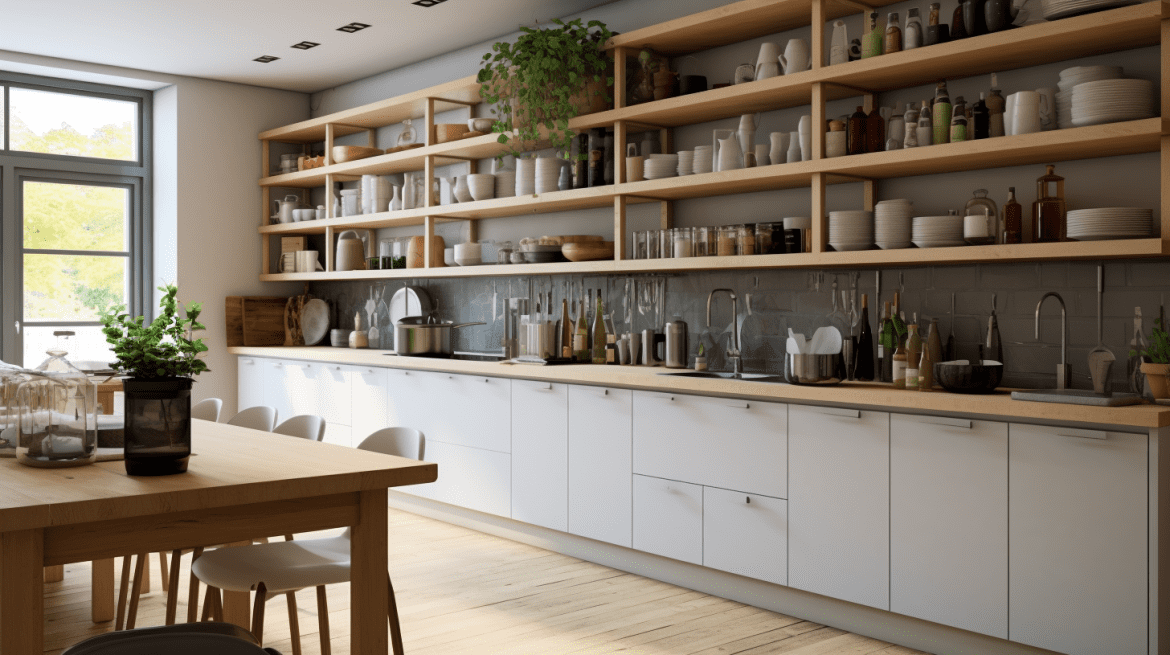 Open shelves create the illusion of a more spacious and open room. Additionally, your collection of beautiful plates or glasses can serve as kitchen decor. Replace some of your kitchen cabinets with open shelves, and don't forget to keep the items on the shelves neat and clean to maintain a tidy kitchen.
10. Kitchen with Metal Details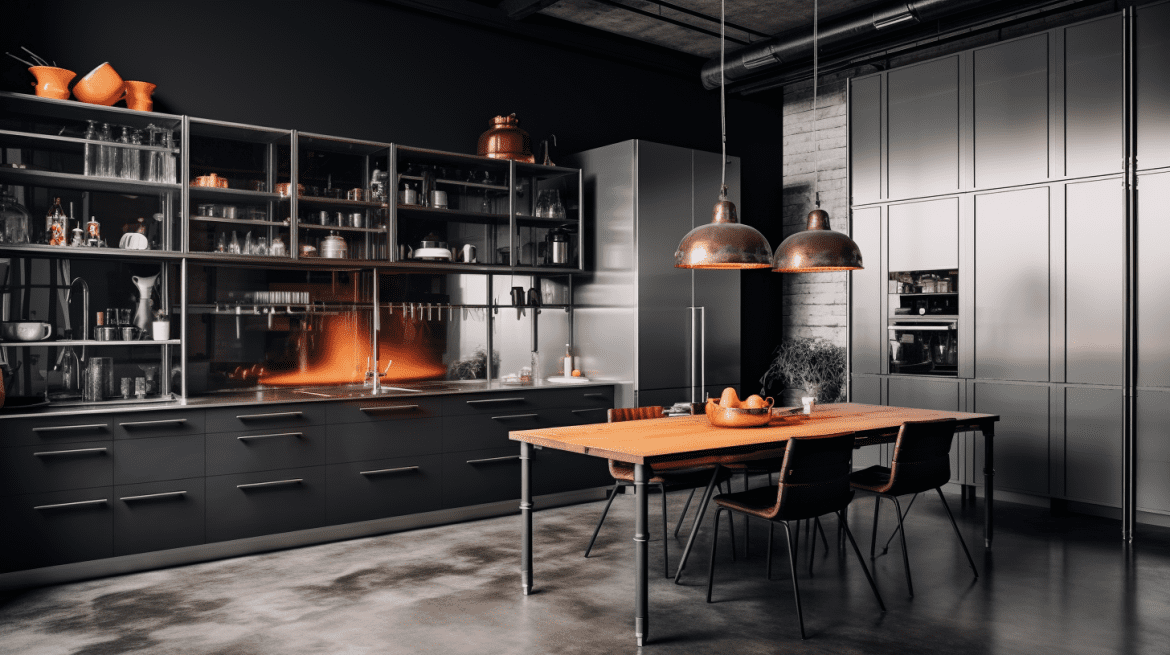 Adding metal details can give a modern and industrial touch to your kitchen. For this, you can choose cabinets with metal handles, pendant lights with metal details, or even a kitchen island with a stainless-steel countertop. These choices will provide an interesting contrast with other kitchen elements.
So there you have it, ten creative kitchen design ideas for your modern home. We hope these inspirations can help you create a stylish and functional kitchen.
But wait, are you still feeling doubtful about how to realize these ideas?
Don't worry, we have the solution, namely Dream Space.
Dream Space is a new feature from Rupa.AI that can transform your room into something more beautiful with the help of AI. You only need to upload a photo of your current room and choose from 30+ different interior styles. Then let our AI generate amazing images of your room's transformation in seconds. Whatever style you want for your room, you can find it on Dream Space.
Go ahead, make your room more beautiful with Dream Space. Happy trying, friends!