We know, creating a comfortable and productive work environment can be hard — a challenge that might have you going in circles. That's why you're reading this article, right? You need inspiration, don't you? Don't worry, we have some special ideas for you.
Trust us, there's nothing more enjoyable than working in an office designed according to your taste and needs.
1. Minimalist Office Interior Design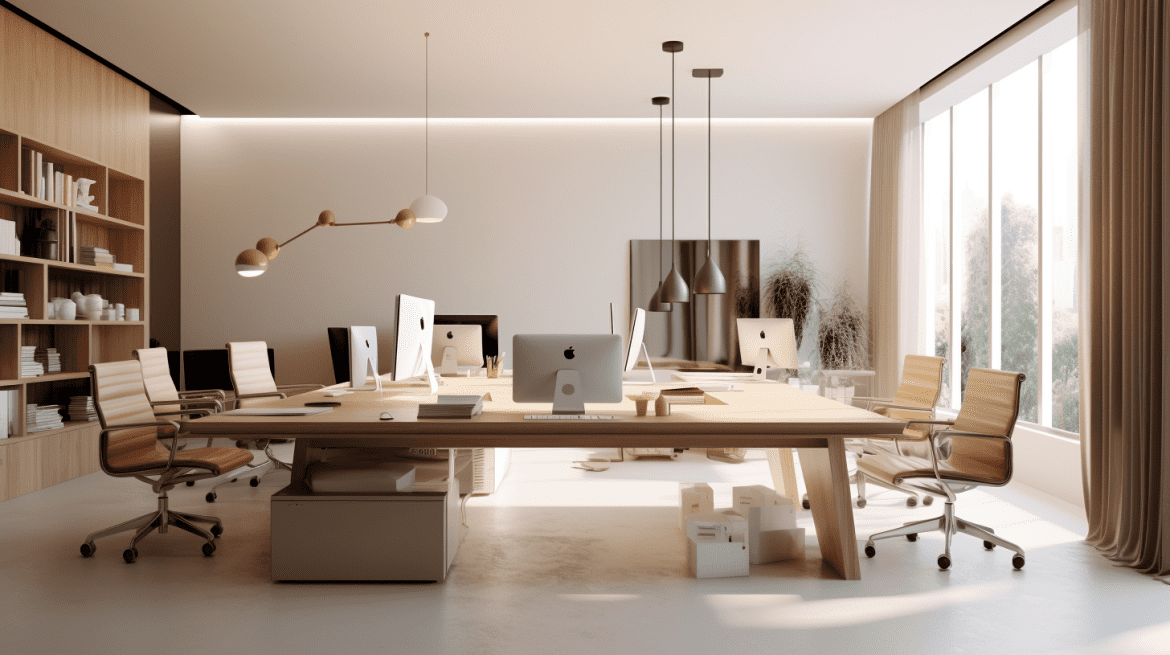 Less is more! That's the motto of minimalist design. With a focus on function and simplicity, your workspace can feel calmer and more focused. Choose furniture with clean lines, and avoid excessive decoration. You'll be surprised at how productive you can be in this simple setting.
2. Industrial Office Interior Design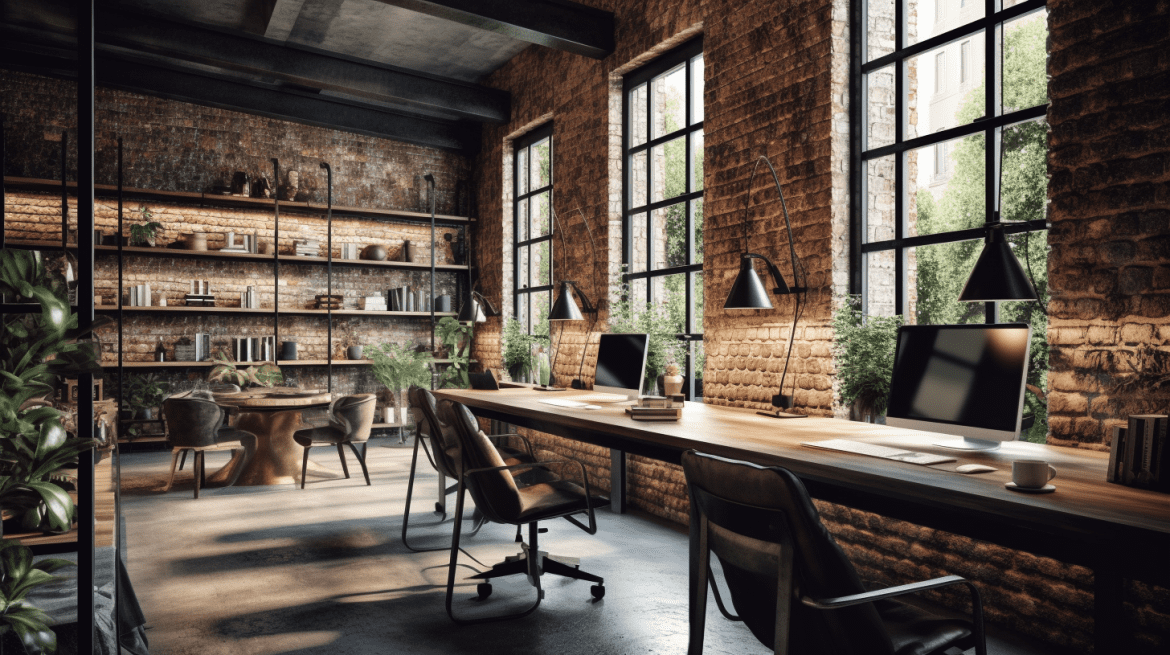 If you're looking for a strong and masculine atmosphere, industrial design is the answer. Inspired by factory and warehouse aesthetics, elements like rough concrete, open pipes, and metal can give your workspace a strong character. Don't hesitate to keep some original architectural elements of your office building.
3. Scandinavian Office Interior Design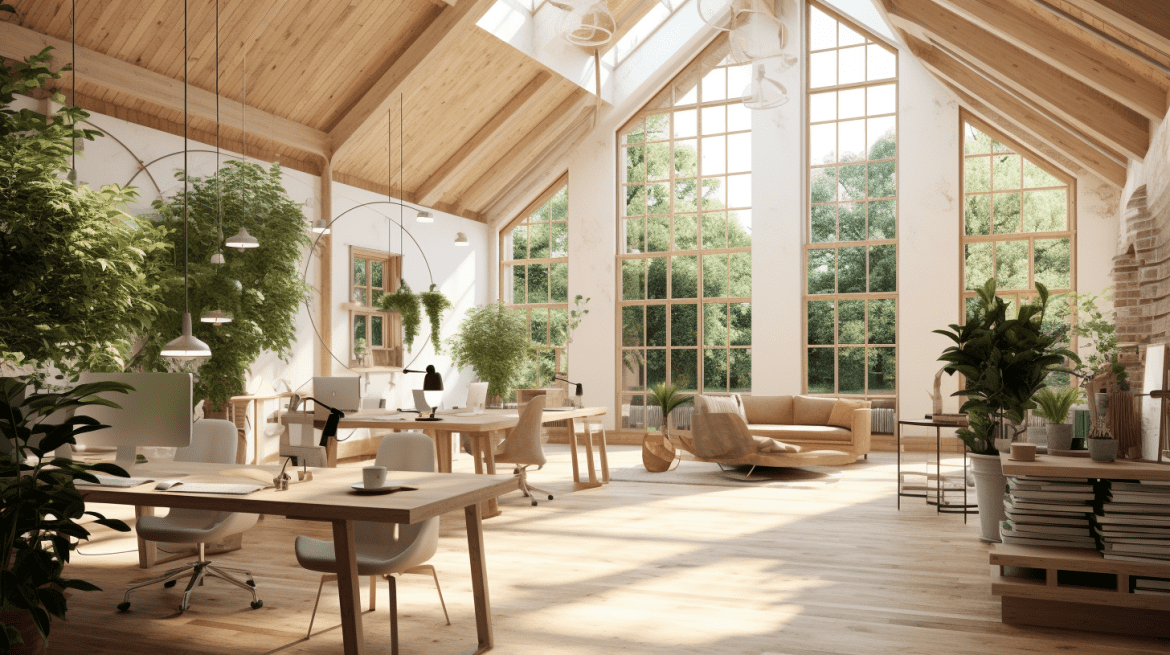 Want to create a warm and pleasant work atmosphere? Try the Scandinavian style. With natural elements like wood and plants, your office will feel like home. And don't forget to use bright colors and simple furniture designs to create this atmosphere.
4. Rustic Office Interior Design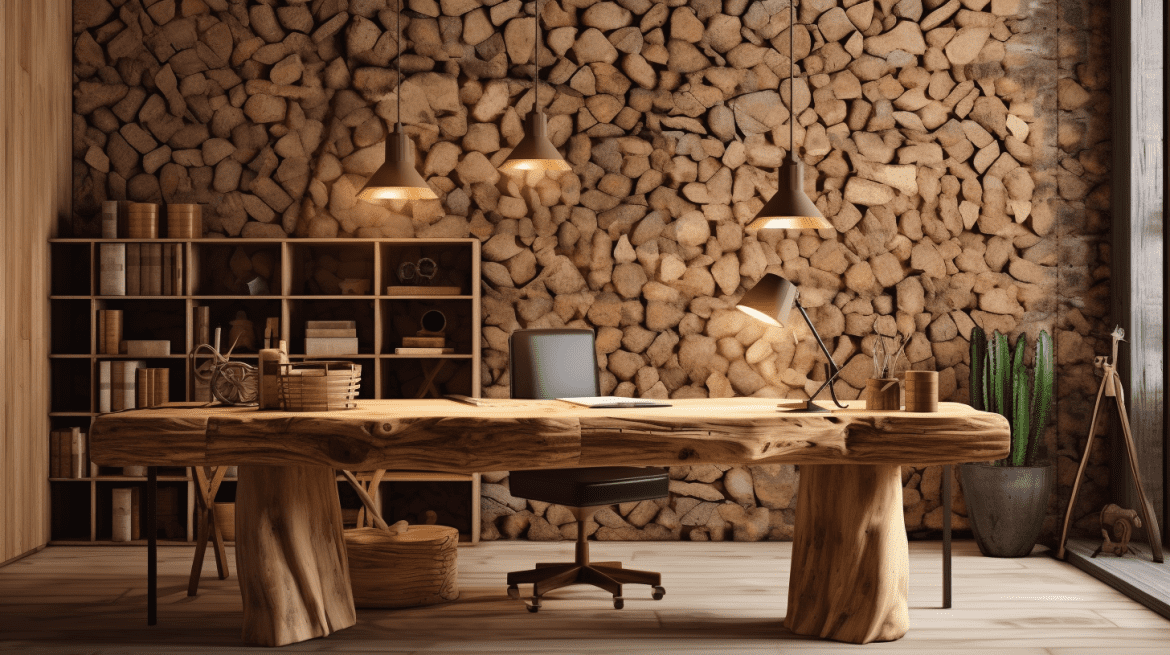 Let's get back to nature with a rustic style. The beauty of rough and unprocessed natural materials, like old wood and stone, can create a warm and comfortable atmosphere. Rough-textured wooden furniture will be a perfect choice for this style.
5. Modern Office Interior Design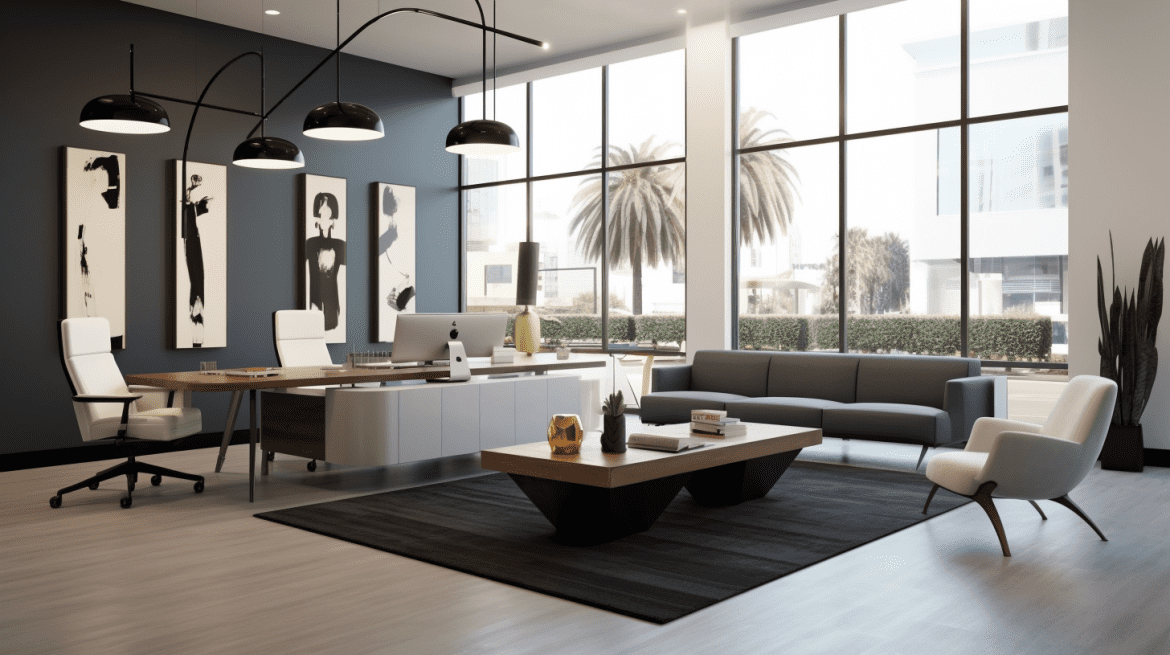 For a professional and up-to-date look, there's nothing better than a modern style. Clean lines, neutral colors, and geometric furniture are the keys to this design. Simple design furniture in colors like black, white, and gray will make your workspace look elegant and modern.
6. Bohemian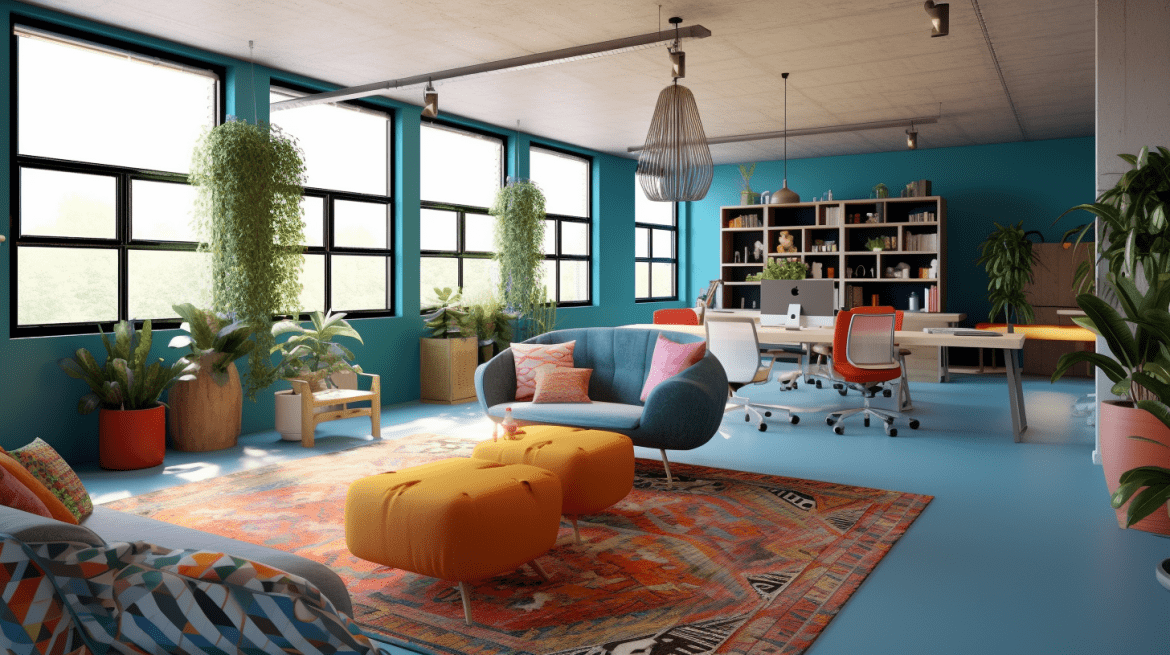 Unleash your creative side with a bohemian style! Bright colors, unique patterns, and art pieces will create a relaxed and creative atmosphere. Add some unique artwork and patterned rugs to your workspace and see how your office vibe changes.
7. Mid-Century Modern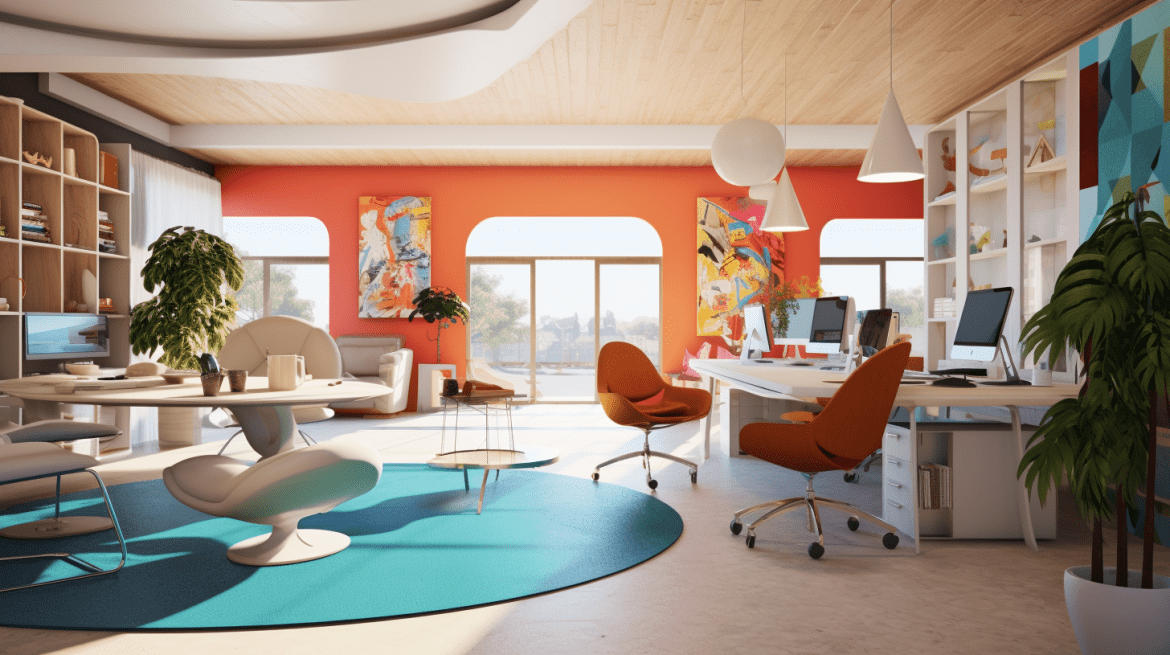 Want to create a vintage and stylish vibe? Try the mid-century modern style. Inspired by designs from the 50s and 60s, organic-shaped furniture and bright colors are the key to this design. Furniture with peg-shaped legs and retro hanging lamps would be perfect for this style.
8. Coastal

Let the beach and sea ambiance enter your workspace with a coastal style. Blue and white colors, as well as natural elements like shells and sand, will make your workspace feel fresh and relaxed. Use bright colors and sea-themed decorative items to create this atmosphere.
9. Shabby Chic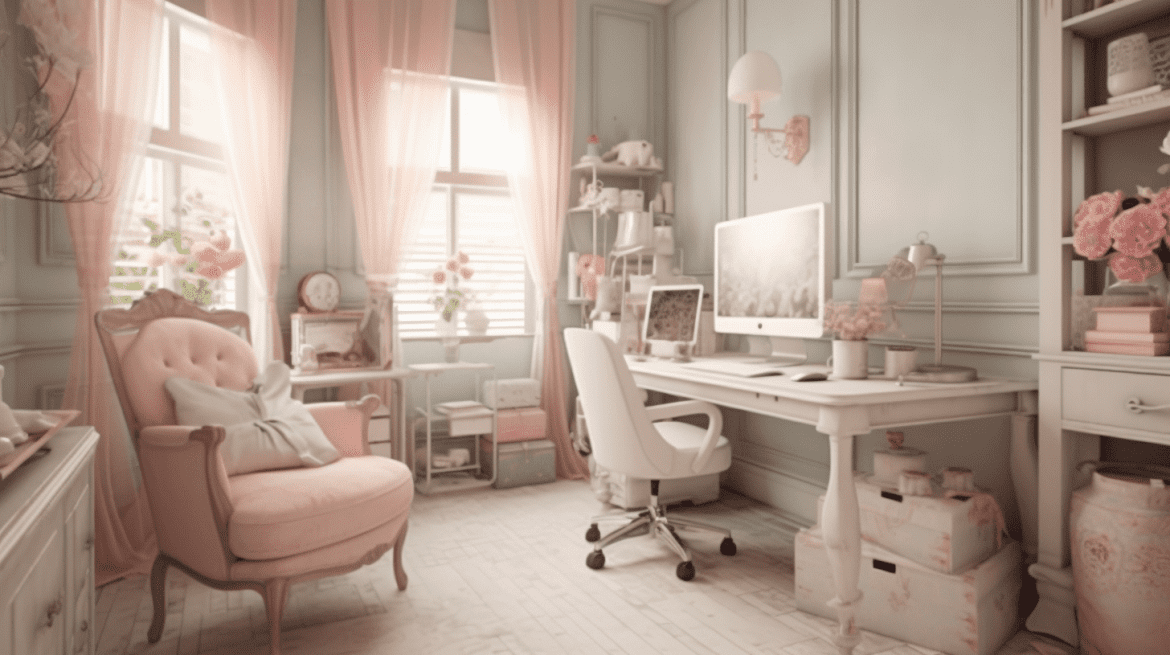 For a romantic and cozy atmosphere, shabby chic style is the right choice. Pastel colors and furniture with a 'worn' appearance will create a workspace atmosphere like a cozy vintage café. If you want, you can add a feminine touch with floral patterned cushions and charming decorative accents.
10. Japanese

Peaceful and focused, that's what the Japanese style offers. With elements like tatami, shoji, and natural wood, your workspace will feel like a tranquil Japanese dojo. Low furniture and natural elements like stone and water will help create this atmosphere.
Interested in Transforming Your Office Space?
Each interior design style has its own uniqueness and strengths, so choose the style that best suits your taste and needs. Remember, a comfortable and attractive workspace can help boost productivity and creativity.
Okay, you might be wondering: "But… but… where do I start? I'm confused!"
If so, there's no harm in trying Dream Space from Rupa.AI. Dream Space is a platform that allows you to change the look and feel of your room with just a few clicks. You just need to upload a photo of your current room and choose from 30+ different interior styles. Then, let our AI generate amazing images of your room transformation in seconds. Whatever style you want for your room, you can find it in Dream Space.
So, why wait? Visit our site to try Dream Space and start transforming your room today.